Content Count

3,836

Joined

Last visited

Days Won

91
Community Reputation
3,616
Pióro Starswirla Brodatego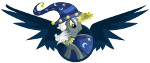 80 Followers
About Cahan
Rank

Tryfid


Birthday

12/24/1995
Informacje profilowe
Gender
Zainteresowania

Botanika, ichtiologia, felinologia, jeździectwo, fantasy, gry komputerowe.
W zasadzie... Interesuję się wszystkim. Lubię uczyć się nowych rzeczy.

Ulubiona postać

Serialowe:
1. Chrysalis Queen of Changellings
2. Celestia
3. Rarity, Starlight Glimmer
4. Sombra, Luna (Nightmare Moon), Sunset, Zecora

Nie lubię:
1. Fluttershy
2. Tirek
3. Maud Pie
4. Apple Bloom
Single Status Update
Wróciłam do Wiedźmina 3 po kilku latach przerwy i po ograniu gier z serii Dark Souls i powiem, że Wiesław jest teraz dla mnie niesamowicie irytującą grą przez większość czasu - a  w przeszłości ukończyłam go na zasadzie "wszystkie questy i znaczniki poza kontrabandą na Skellige". Ale najbardziej mnie razi skopana ekonomia, w której za zlecenie dostaję tyle kasy, że nie stać mnie by kupić za to wódkę. Oraz system znajdziek. W Białym Sadzie zdobyłam chyba receptury na odwary z większości potworków z late game, ale nie na jakieś podstawowe potki.

Odbiłem się od tej gry dwa razy. Sam nie wiem dlaczego. Może to kwestia niezbyt ciekawego systemu walki? A może systemu rozwoju postaci, który jakoś mi nie podszedł?  Tak czy inaczej, trzeci raz do niej nie wrócę

W przeszłości bardzo dokładnie ją ograłam i wtedy byłam zachwycona, aczkolwiek już wtedy nie umiałam do niej wrócić, podczas gdy w Skyrima pykam raz na jakiś czas od wieeeelu lat. No, ale w międzyczasie spotkałam gry takie jak Dark Souls czy Bloodborne i Wieśkowa walka oraz kontrola nad postacią i ten otwarty świat, który szybko się nudzi - no, to boli. Nie wiem jak daleko zajdę nim stwierdzę, że to walę i idę przejść czwarty raz Dark Souls 3 czy wbijać platynę w Bloodborne.  Albo któreś hirołsy. Albo ograć coś, czego nie ograłam.

Ja grałem dwa razy w tę część, raz na PS4 i potem na PC, ale już do niego nie zamierzam wrócić, mimo iż nawet nie zacząłem ostatniego dodatku, bo nie chcę właśnie psuć sobie wspomnień o tej grze, a jestem pewien, że szybko bym się odbił z niesmakiem od tej części. Jak dla mnie to najlepsza fabuła i klimat mimo wszystko było w jedynce, gra była liniowa, bez możliwości powrotu do poprzednich lokacji, ale jednak fabuła najmocniej trzymała.