Content Count

3,752

Joined

Last visited
Community Reputation
3,327
Pióro Starswirla Brodatego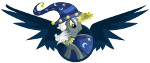 79 Followers
About Cahan
Rank

Tryfid


Birthday

12/24/1995
Informacje profilowe
Gender
Zainteresowania

Botanika, ichtiologia, felinologia, jeździectwo, fantasy, gry komputerowe.
W zasadzie... Interesuję się wszystkim. Lubię uczyć się nowych rzeczy.

Ulubiona postać

Serialowe:
1. Chrysalis Queen of Changellings
2. Celestia
3. Rarity, Starlight Glimmer
4. Sombra, Luna (Nightmare Moon), Sunset, Zecora

Nie lubię:
1. Fluttershy
2. Tirek
3. Maud Pie
4. Apple Bloom
About Me
"And who are you, the proud lord said,
That I must bow so low?
Only a cat of a different coat,
That's all the truth I know.
In a coat of gold or a coat of red,
A lion still has claws,
And mine are long and sharp, my lord,
As long and sharp as yours.
And so he spoke, and so he spoke,
That lord of Castamere,
But now the rains weep o'er his hall,
With no one there to hear.
Yes now the rains weep o'er his hall,
And not a soul to hear."
Porzućcie wszelką nadzieję, wy którzy tu wchodzicie.
Być może nie wiecie kim lub czym ja właściwie jestem. Nie ma w tym nic dziwnego, bo tego nie wiem nawet ja. Chodzą różne plotki na ten temat... Jedni powiadają, że jestem smoczycą ciemności, według innym jestem sałatożernym jednorożcem, wychudzonym alikornem, rosiczką, pogańską zebrą, facetem, babochłopem, a nawet pegasis z Wrocławia. Jaka jest prawda? Cholera wie.
Lojalnie ostrzegam, że jestem złem, wredną, złośliwą mendą (i do tego brzydką), nie przejawiam za grosz taktu i w ogóle... Ale przynajmniej jestem szczera, również ze sobą samą. Generalnie to nie gryzę (tylko kopię).