Content Count

3,176

Joined

Last visited
Community Reputation
2,958
Cutie Mark Crusaders - Łowcy Reputacji! YAY!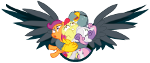 40 Followers
About Starlight Sparkle
Rank

Najlepsza asystentka Wielkiej i Potężnej Trixie!


Birthday

May 2
Kontakt
Skype

Telegram @Starlight_Sparkle

Gadu-Gadu
Discord ID
Informacje profilowe
Miasto
Zainteresowania

1-MLP,
2-Sci-Fi,
3-Gry,
4-Papierowe RPG,
5-Historia,
6-Mitologia,
7-Anime,
8-Konie,
9-Łucznictwo,
10-ASG,
11-Gry planszowe.

Ulubiona postać

MLP:
1-Twilight Sparkle
2-Applejack
3-Fluttershy
4-Rarity
5-Pinkie Pie
6-Rainbow Dash
7-Princess Celestia
8-Princess Luna
9-Nightmare Moon
10-Queen Chrysalis
11-Trixie
12-Starlight Glimmer

Kolejność przypadkowa.

Kontakt:
Telegram - @StarlightSparklePony
Single Status Update
See all updates by Starlight Sparkle
Mogłeś mi to na profilu napisać zamiast offtopować w temacie Pamiętaj, że ekipa zbiera więcej punkcików za przewinienia.

Ale masz rację. Przyznaję, że wiele rzeczy odciągało moją uwagę od działu, a aktywność na reszcie wcale nie motywowała (oczywiście nie obwiniam innych, to ja tutaj zawaliłam). 

Ostatnie dni jednak zaczęłam myśleć znów nad działem, ale Twoja uwaga to na pewno wzmocni. Dzięki 

@Triste Cordis A czym dokładnie różni się pokemon Shield od Sword? Niby chyba ta sama gra, ale posiada dwie wersje?

@Starlight Sparkle Pokemonami oraz ekskluzywnym trenerem (liderem). W shield jest to jakieś zamaskowane emo.