Content Count

13

Joined

Last visited
Community Reputation
0
Neutral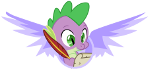 16 Followers
About vikishy
Rank

Zwierzęca przyjaciółka


Birthday

05/10/2001
Informacje profilowe
Gender
Zainteresowania
Ulubiona postać

Fluttershy i oczywiście Luna <3
...straszne potwory, które...

Księżniczko Celestio, Kilka dni temu do naszej klasy przyszła nowa dziewczyna. Była ona dosyć niechlujna, miała wiele problemów rodzinnych. Jednak gdy z nią zaczęłam rozmawiać, okazała się przemiłą osobą. Nauczyłam się dzisiaj, że nie warto "oceniać książki po okładce" czyli ludzi po wyglądzie. Nauczyłam się jeszcze jednego, że nie ma sensu nieładnie mówić o osobie, której się nawet nie zna. Twoja uczennica Vikishy. +1 punkt ~Mad Mike

Magenta Marvelous replied to topic's vikishy in Gry i zabawy

Czy to będzie Marcia Cross?

Myślę, że ładnie byłoby temu kucykowi w stroju wiosennym, jakaś zielona lub żółta sukienka, wianek z kwiatów.

Naszyjnik - 1790 zł Bransoletka - 9870 zł

Rope-Pie. Jak sama nazwa mówi "rope" po angielsku oznacza lina, a więc muszą to być zawody, w których głównym przedmiotem będzie właśnie lina. Zawodnicy dzielą się na dwie drużyny po 6 kucyków. Uczestnicy stają na przeciwko siebie. Pomiędzy nimi znajduję się błoto i nasz tytułowy przedmiot czyli lina. Zawodnicy biorą linę do pyszczka i ciągną ją do siebie, najmocniej jak umieją. Ta drużyna, która przeciągnie do błota równoległą drużynę, wygrywa. Nagroda to obiad u Applejack.

Według mnie Angel jest neutralny. Czasami jest niemiły dla Fluttershy, ale to nie oznacza, że jest złym królikiem.

Witaj Fluttershy, mam do ciebie jedno pytanko; Jak ci się mieszka z tyloma zwierzakami w domu?