 Content Count

79

Joined

Last visited

Days Won

1
Community Reputation
35
Good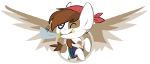 23 Followers
About Moon Slash
Rank

Śmierć


Birthday

12/05/1994
Informacje profilowe
Gender
Miasto
Zainteresowania

Siać śmierć i zniszczenie.

Ulubiona postać

Princess Luna is best pony ever!!!
FlutterFan replied to topic's Moon Slash in Off-topic

Pochwale się swoim i od razu, tak mam dwa monitory.

Advilion replied to topic's Moon Slash in Heroes

Legendarne HEROES III do tej pory potrafię spędzić cały dzień przy tej wyśmienitej grze. Co tu dużo mówić gra jest po prostu świetna! Ulubiony Zamek: Nekropolia. Znienawidzony zamek: Zamek. ( Anioły potrafią być wkurzające.) Ulubiony Bohater: Vidomina Znienawidzony Bohater: Astral Ulubiona Jednostka: Lisze i Władcy Mroku. Znienawidzona Jednostka: Anioły. Ulubiona Umiejętność: Nekromacja. Ulubione Magia: Ognia. Ulubione Zaklęcie Inferno.

Jak ktoś będzie zdesperowany to proszę Skype : czornikxd GG: 8840365

A czemu by nie pokazać? Proszę bardzo, mój 4 letni steam

Ahhh... Pamiętam te czasy, potrafiłem spędzić cały dzień na graniu w Crash'a. Do tej pory posiadam PSOne z wszystkimi pięcioma częściami tej gry. Pamiętam jeszcze jak nie miałem karty pamięci i zostawiałem PS na noc włączone by móc kontynuować grę w następnym dniu. Moją ulubioną częścią do tej pory jest Crash Bandicoot 3 Warped. A najbardziej znienawidzą planszą z tej części była tak w której jeździło się na tygrysie. Crash dokładniej jest Jamrajem Pasiastym.

Zostać zjechanym przez nauczyciela przy całej klasie. Bezcenne...

Grypa, zapalenie oskrzeli i wirusowe zapalenie gardła. Gorzej już chyba być nie może.

Czy tylko ja mam tak że jak sie zaczyna weekend nic mi się nie chce?

Kadr z fokusem Fapacz doskonały...