Content Count

418

Joined

Last visited

Days Won

4
Community Reputation
113
Great and Powerful Reputation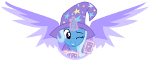 34 Followers
About ~Tamara~
Rank

Herr Doktor


Birthday

12/29/1998
Informacje profilowe
Gender
Miasto
Zainteresowania

[url=http://squiby.net/level/9117753][img]http://squiby.net/view/9117753.png[/img][/url]

Ulubiona postać
~Tamara~

changed their profile photo

Oczywiście że się zgłaszam, jak tylko znajdę pióro od tableta a na kartce też mogę coś machnąć, jak się uda dziś dodam w edicie do tego posta.

Nikt nie pisze, nikt nie zagląda? No cóż....i tak daje to co stworzyłam ze skutków braku internetu...

No i mój pomysł legnął w gruzach....biała OC...identycznie zaprojektowałam OC reprezentującą śląskich bronies...no pięknie... ;___;

Wszyscy te siatki, siatki...wszyscy mówią że to podstawa artysty. Ja nigdy nie rysowałam żadnych siatek, nie rysuję i raczej nie będę...a jakoś umiem rysować

Maud została doliczona do mojego TOP10 ulubionych postaci z MLP:FiM Nie wiem czemu, ale mam do niej sentyment

Witajcie, piszę tutaj w niezbyt dobrym nastroju...bowiem mama mojej koleżanki z klasy dowiedziała się że ma ostrą białaczkę szpiku kostnego...bardzo się tym przejmuję bo znam panią Anetę i wiem jaka to wspaniała osoba i matka...może ona sama lepiej to opisze: Kochani, szukamy dawcy szpiku dla Anety i Innych chorych. Znalezienie genetycznego bliźniaka to dla niej jedyna szansa na wyzdrowienie! "Mam 37 lat, wspaniałego męża i dwie cudowne córki. Jestem handlowcem. W październiku 2013 roku dowiedziałam się, że choruję. Diagnoza była straszna –OSTRA BIAŁACZKA SZPIKOWA. Obecnie jestem w trakcie leczenia chemioterapią, czeka mnie przeszczep, niestety nie mam jeszcze dawcy. Dlatego zwracam się z prośbą do ludzi chcących i mogących mi i innym chorym pomóc. Proszę o zarejestrowanie się jako potencjalny dawca szpiku. Przeszczepienie daje nam szansę na dalsze życie. Dziękuję. Aneta Bochenek" Aby dołączyć do bazy i dać szansę Anecie i innym chorym nie trzeba dużo! Wystarczy poświęcić 5 minut i zarejestrować się na stronie Fundacji http://www.dkms.pl/pl/zostan-dawca Do domu przyjdzie pakiet, który należy wypełnić i odesłać. DLA CIEBIE TO 5 minut, DLA ANETY I INNYCH CHORYCH CAŁE ŻYCIE! DZIĘKUJEMY ZA TWOJE WSPARCIE! Mam nadzieję że bronies mają serce i zapiszą się do DKMS, albo chociaż udostępnią to dalej, proszę! ~Dr.Tamara

A Tamareła jak zwykle wszyscy zlewają...