Content Count

48

Joined

Last visited
Community Reputation
7
Neutral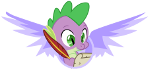 Ostatnio śniło mi się że Vinyl Scratch była źrebakiem i należała do CMC dziwne ...

Sorry że nie w spoilerze ale nie umiem wkładać do nich obrazków :/

Proszę o wpisanie na listę i znalazłam jeszcze taki

Mimo iż ma sporo wad ( które wymieniał Dolar84 ) to mnie się podobał staraj się przy drugiej części, żeby lepiej wyszło

Ona jest super mój drugi ( po Firefly ) ulubiony kucyk ze starej generacji

Rarity !!! WHAT !!! przecież ona jest moim przeciwieństwem

Mnie jeszcze nie ma ?! wpisuj najbardziej lubię Sweetie Belle

a ile to będzie miało rozdziałów mniej więcej ?

Szukam czegoś z RD w głównej roli oczywiście oprócz My Little Dashie i Rainbow Factory

a) dołączy do Wonderbolts i zostanie kapitanem grupy kiedy Spitfire przejdzie na emeryturę lub b) da sobie spokój bo nie będzie mogła tak często widywać się z kumpelami , bo co to za Mane 6 bez Rainbow ?

Aretra replied to topic's FireFly in Sezon V

Znaczki coś o rodzinie RD żeby Twilight nie była księżniczką ( chyba niewykonalne ) jakiś shipping Rainbow Dash i Wonderbolts więcej o Kryształowym Królestwie nowy antagonista powrót Sombry

A ja przepraszam że cię nienawidziłam

Dyskusja na temat szkolnej koleżanki Apple Bloom , jak widać Twist nie jest zbyt ... urodziwym źrebaczkiem myślicie że wyładnieje z wiekiem ?