Content Count

60

Joined

Last visited
Community Reputation
176
Great and Powerful Reputation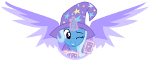 17 Followers
About Rory Mercury
Rank

Pół Bogini


Birthday

03/29/1986
Informacje profilowe
Gender
Miasto

Taka dziura że wstyd się przyznać :)

Zainteresowania

Cóż o tym pisac medycyna zdrowy styl życia (choroba tego odemnie wymaga) ruch i taniec (choc ostatnio tego nie robie bo znow nie mam kiedy przez lekarzy)

Ulubiona postać

Rainbow Dash. Applejack. Vinyl Scratch i mój ukochany z lat dzieciństa Ratchet oraz Rory Mercury :)
Okej i mam kolejnego pluszaka Malo sie tu wiadomosci pojawia bo malo robie kucykow i wiekszosc pluszakow pojawia sie na mojej stronie www.facebook.com/pluszakinaszydelku Tym razem kucyk wzorowany na Chrysalis

No i mamy Lune jako Amipona (jeszcze takie dwie przedemną)

Wiec tak to kolejny mój twór Nightmare Moon

@Rainbow Guitar dziekuje za zwrocenie uwagi @Ziemowit wiesz no Leninem jeszcze nie bylam chyba ze czegos o sobie nie wiem w co wątpię

Jakby ktoś się nie zorientował @Ziemowit i @Twister To moje drugie konto tylko tu postanowiłam podłączyć Facebooka bezpośrednio do mnie na konto żeby nie męczyć się z pisaniem Tak jestem Leniem ok i robię Edit

@Ylthin Maruda dziękuję za słowa uznania Cały czas kształcę swój warsztat więc pewnie inne maskotki zaczną mi wychodzić coraz lepiej

To są kolejne moje pluszaki na szydełku. Pierwsza kucowa Pinkie i breloczki Twilight

Witam chciałam się tutaj pochwalić swoimi wyrobami na szydełku Dla wszystkich którzy chcą rzucać hejtem Dopiero się uczę i nie wszystko mi wychodzi Można je również zamawiać na mojej stronie na Facebooku Jeżeli chodzi o cennik to chwilowo podaję go na prywatnych wiadomościach i na tym forum i na Facebooku. Dziękuję @Ziemowit i @Twister za zwrócenie uwagi Oto moje pierwsze pluszaczki które nazwałam amiponami. Resztę nie kucowych wyrobów można zobaczyć na mojej stronie

moje wyroby na szydełku  wiele innych jest na stronie mojej na Facebooku

 

Można je tam również zamawiać  

 

Chwilowo cennik podaję w prywatnych wiadomościach 

1

Rory Mercury replied to topic's Rory Mercury in Gry i zabawy

zabiorę ci ten kapelusz z avatara Co mi zrobisz jak mnie złapiesz?