Content Count

54

Joined

Last visited
Community Reputation
11
Neutral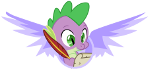 About Aranarth
Rank

Łowca potworów


Birthday

12/11/1996
Informacje profilowe
Gender
Miasto
Zainteresowania

-gry komputerowe
-czytanie książek
-piłka nożna

Ulubiona postać

Zecora
Chrysalis
Spitfire
Fluttershy
Trixie
Aranarth

changed their profile photo

Następny rysunek tym razem

Podczas ślubu Cranky'ego i Matildy a pokłóciły się o prezent weselny którego zapomniały zabrać.

Patrz się w moje oczy i zostań moim sługą.

Pozdrawiam wszystkich którzy nie śpią.

Szukam fanfika w tematyce Metro 2033. Jest jakiś ?

Samozwańczy Jeleniu-Władco Tęczowych Tęczlingów mam do ciebie kilka pytań: 1. Czy jako władca masz większą moc magiczną od pozostałych tęczlingów ? 2. Obawiasz się zdrady wśród swoich ? 3. Jak inne kucyki zareagowały na wasz nowy wygląd ? 4. Co sądzisz o swoim opiekunie MasterOfRainbows ? Żegnam władco Tęczlingów *kłania się nisko*

Bardzo mnie to ciekawi. Jak podoba ci się twój nowy wygląd ?

Szonszczyk replied to topic's Aranarth in Archiwum

Mi przychodzi tylko nazwa: Andrzeje-Jelenie

Witam Nick: Szuruburu klasa: Piroman (mag ognia) lvl: 8 serwer: Duneb Właśnie wracam do gry po roku przerwy. Jeśli ktoś jest chętny do wspólnej gry śmiało pisać.