Content Count

223

Joined

Last visited
Community Reputation
12
Neutral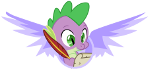 21 Followers
About Zappter
Rank

The Jewel In The Crown


Birthday

08/19/1997
Kontakt
Strona www
Skype
Facebook
Snapchat
Discord ID
Informacje profilowe
Gender
Miasto
Zainteresowania

Grafika, Fantastyka, Gry, Rysunek, Informatyka, Sztuka

Ulubiona postać
Zappter

changed their profile photo

Och przepiękne są twoje starania ♥ Dziękuje ci sługo, lecz oczekuje więcej waszych portretów. Moja galeria nie może być pusta!

Oczywiście, lecz jak nie ma awatara działu to ja na razie nic nie mogę zrobić, ale dalej można przesyłać prace

Airlick replied to topic's Zappter in Galeria

Szkoda ;_; Kolega u góry mówi najszczerszą prawdę. Zysk zawsze będzie na pierwszym miejscu, jak go nie ma, to nawet nie warto ruszać pupska z tego wynika. Jedynie to czekać na jakiś cud Jedynie co zauważyłem (a wy na pewno też to widzieliście) to takie nie wielkie nawiązanie do NR w odcinku o breezies. Jeden miał taką bujną grzywę z białymi pasemkami jak właśnie NR, ale raczej to był tylko przypadek niż celowe nadanie takich włosów.

No przecież! Ten smok to przecież broń do masowej destrukcji! O niej nikt wcześniej nie wspomniał Dobrze że jedna osoba pamięta o Spajku To tak bardzo omijana postać, a takie może mieć znaczenie. Jak w odcinku z jego urodzinami. Jak urósł to już był problem, a co dopiero gdyby ktoś mu kazał coś niszczyć

Tak, ale można tez swoje koncepcje innych postaci tutaj przytaczać, jak np. Celestia. Według mnie ta wersja u góry jest... lekko ujmując tragiczna Stara NM jest już lepiej zrobiona

Będą oczywiście. Te co zostały rozdane zostaną tylko zmienione za udział, a za konkurs zrobi się nowe. Taką mam nadzieje.

O! Jak miło zobaczyć ponownie narysowany dla mnie portret. Dziękuje c, Hidoi. Konkurs wciąż trwa, czekamy tylko na wybór nowego awatara, aby znów rozpocząć działanie w dziale. Ja na razie nic nie mogę zrobić, lecz królowa dalej czeka

CyanFlight napisał: "Co sądzisz o muzyce?" Z tego względu że Awatar Rarity odszedł ze swojego stanowiska dział Rarity będzie chwilowo nieaktualizowany. Co do pytań i odpowiedzi Nightmare Rarity to dalej będą aktywne, więc pytajcie śmiało

Co to za klamoty na tylnych kopytach!?

Uszatka napisała: 1. "Chciałabym być Twoją przyjaciółką. Mogę~? C:" 2. "Lubisz budyń waniliowy?" 3. "Co myślisz o królu Sombrze oraz Chrysalis?" Nie, najwyżej sługą, który będzie mi nosić wino. Nie. No i...