Content Count

529

Joined

Last visited

Days Won

7
Community Reputation
297
Wzorowa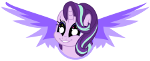 65 Followers
About Socks Chaser
Rank

Poliromantic weirdo


Birthday

07/15/1999
Informacje profilowe
Gender
Miasto
Zainteresowania

Siedzenie, spanie, leżenie, granie na konsoli. Zawodowy leń z latami doświadczenia. Lubię też narzekać. Na wszystko.

Wegetarianka, być może wkrótce weganka, gender. Nonbinary bigender transfem asexual demisexual poliromantic. Spróbuj rozwiązać ten rebus.

Ulubiona postać
Single Status Update
See all updates by Socks Chaser
https://oko.press/pawlowicz-atakuje-szkole-za-szacunek-dla-transplciowej-uczennicy-bedzie-kontrola-kuratorium/

 

Kocham polską prawicę.


"Dzieckiem nienarodzonym" które trzeba chronić jest np. zaśniad groniasty - zlepek komórek przypominający coś w stylu kiści winogron, powstający poprzez nieprawidłowe zapłodnienie komórki jajowej.

Nie trzeba chronić za to 10-letniej transpłciowej dziewczynki. W tym przypadku można powiedzieć gdzie ona się uczy, nasłać na szkołę kuratorium, odczłowieczyć, zmisgenderować, wszystko oczywiście "dla jego dobra", you know, bo walczy się z, eeeee, neomarksizmem kulturowym. Czy coś.

 

Choć cieszy, że nawet w tak smutnym i beznadziejnym kraju są ludzie i lokalne instytucje gotowe, by pokazać transfobii środkowy palec.

Wystarczy co ksiądz Natan gadał ostatnio o dzieciach z in-vitro...
Co do sytuacji w PL sądzę że jesteśmy świadkami rodzącej się dyktatury, która mało tego że czyni niebywały syf w kraju to jeszcze wszystkim sąsiadom (w tym mocarstwom) dookoła robi między drzwi i na wycieraczkę przy okazji.